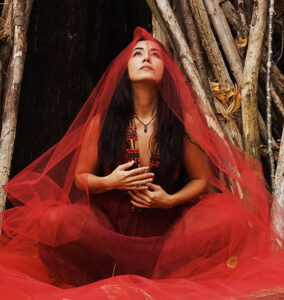 Unfortunately in Islam we grow up with the normalization of abuse and oppression towards the feminine. My wild creativity, empathy and rebellious nature made me no stranger to abuse. I allowed it because it was a cultural norm, but I was raging within, more often than not. I thought about ending my life, and tried. I ran away many times…looking for freedom, from family, relationships, social expectations, false roles…It was all eating me alive, this artificial system of living. I was not born with the capacity to tolerate it, for good purpose.
It's amazing the amount of abuse and trauma I've live in this life alone, the varieties of it. Because I knew and emanated the truth that we as humans are sovereign beings, I was always a trigger.
I came close to physically dying on many occasions. Until one day, angels visited me in a lucid dream, and showed me clearly where I was and where I was headed if I didn't make a change. It was after that dream that I began breaking free and healing myself. An awareness was activated within me and I knew the steps to take for my own wellbeing. 
My healing journey progressed into shamanic training, where I unlearned a lot of the systematic conditioning and re-membered an eternal Truth. Everything became my teacher, indigenous elders, ancestral DNA, nature, stars, the system, the bliss, the opposition, the conscious, the subconscious. The wisdom of plants guided me to learn from the Stars, so I studied astrology. I then became a certified herbalist and devoted myself  to being a student of our ancient teachers, the plants.
With the birth of my daughter I was initiated into womb healing. This is when the pandoras box of trauma started expressing out of my body. I've been able to utilize my experiences and tools to dance through the transformation. The more I heal myself the more I hold space for others, and ultimately I believe we're all here to help one another.
I have been facilitating transformational womb healing retreats, ceremonies, one on one mentorships and consultations for 5+ years. Plants, movement and creative expression have been wonderful tools for healing myself and embodying my sovereignty, and this is some of what I can share with you.
We all know we live in a destructive toxic system that has been abusing Earth and all her children for centuries. My whole life I was looking for ways to change this and contribute to better ways to live in harmony with Nature and each other.
What I have found is that the only way I can do this is by transforming myself and embodying the best I can envision.
Pain and trauma were a heavy weight I carried in silence. Now they are the treasures that adorn my inner and outer temple, illuminating the way through all my senses and expressions, for myself and others.
"When a woman heals herself she heals all of humanity."
I am grateful for the opportunity to offer my service for the healing and harmony of all life.