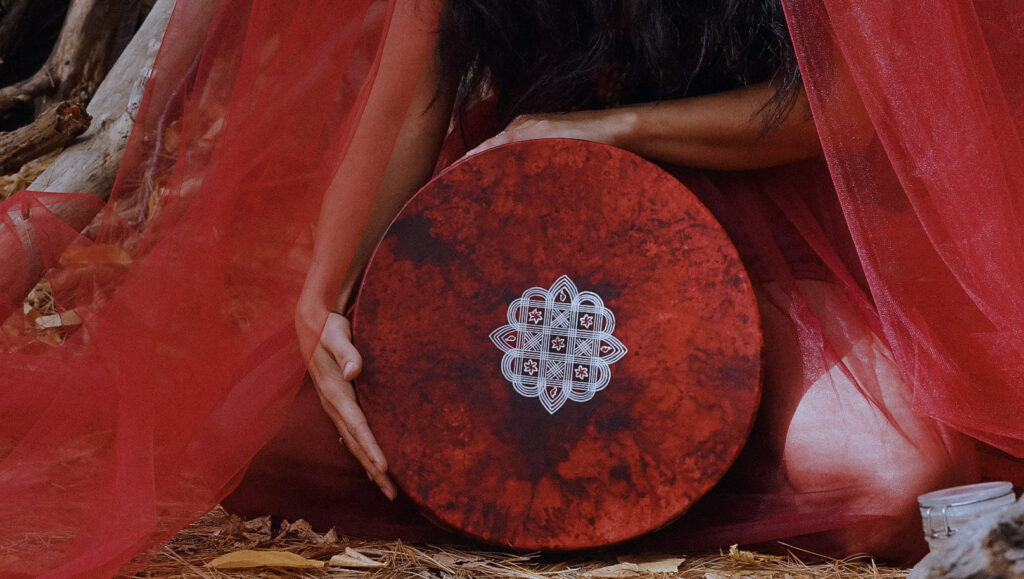 It's time you remember who you are.
As women we endure a lot in this world. All because for some time we have forgotten our Wild.
It's true that the current patriarchal system has done everything to erase the Great Mother from our Collective Consciousness, but She is the Source of all Creation and there is no way to separate from Her. We can  forget, but even that is a very temporary miserable pain.With all the collective trauma from oppressive religion, domestic violence, sexual abuse, we pay a heavy price for staying disconnected from ourselves. We hoard the painful past until it has a mind of its own, not realizing that we are meant to use it as fertilizer to birth our wildest dreams. 
We've been conditioned to limit ourselves to the confines of the known (masculine/consciousness), yet our power and freedom reside in the Great Unknown (feminine/subconsciousness).
Any dis-ease, imbalance, toxicity, stagnancy, in the body mind or spirit is due to the illusion of separation from Source, and thus a disconnect from our True Self. Humanity has been under a spell, unconscious for a long time.
Wombyn are the portals between worlds.  
 We have the innate power to transform and liberate ourselves under any circumstances. This is the power of our Wild Womb, the vessel of the Great Cosmic Womb of all Creation. With this power however also comes great responsibility. A responsibility to guide humanity back to their Truth, back to their Source. You are the medicine, and the planet needs you. You will not find health, joy or freedom, trying to fit into the mundane destructive reality under false toxic establishments. This is not you, this is not any of us. 
Sovereign, wild, embodiment is the best offering I can give to my sisters, to all of humanity and life on this Planet. 
 I've been questioning the status quo  and rebelling against false, toxic establishments since birth. So many years I struggled to tame my wild nature, which inevitably brought on abuse and opposition from every direction. This world is set up to numb and disconnect you from your Wild, your Source, your Truth. In seeking sovereignty I embarked on my own healing journey in 2012. In 2013 I was called into shamanism. 2015 I was initiated into shamanic plant medicine apprenticeship. I studied and healed through herbalism, astrology, art, dance, and writing. I am an eternal student of the Great Mystery.
Since 2016 I have been blessed to facilitate shamanic healing ceremonies and retreats. Currently I facilitate mainly womens ceremonies and lead an annual Wild Wombyns Shamanic Retreat. My work is focused on Womb healing, where a woman embodies her Divinity. I've had the honor to witness hundreds of women transform and blossom into their True Power, myself included. It's an exhilarating experience.     
I offer you my ancestral medicines, inter-dimensional teachings, the rich experiences of trauma and healing, the wild of my womb, the ecstatic love affair that has become my life.
It is my joy to hold space for the alchemy of  Soul and the blossoming of life.
I don't resonate with cookie cutter outlines for 1:1 mentorships, or any of my offerings. Every individual has a unique signature vibration and a flow that best works for them. I do always begin with Astrology, which is the time we get to connect deeper on an energetic level and assess your journey together. I don't make decisions for anyone, I'm not here to disempower you. You are the one making the conscious choices and doing the work. This is your journey. I serve as a witness and companion to hold space for the re-membrance  of your True Self.
My approach is intuitively guided, by the Womb, physical and spiritual. The womb and heart are one and all the guidance we receive from inter-dimensional guides come through this portal within us. I call it the WombHeart, where we are eternally present as Source. This is the way of the Feminine, the Unknown, the Mystery. It requires and thus cultivates unwavering trust, in the Self and the Universe. This is a process you uncover, explore and define for yourself in affirmation of your Sovereignty.  
………………………………………………………………………………………
 This mentorship program is for you, if you want to… 
Liberate yourself from patriarchal programming and victim mentality.
Activate your feminine, creative, sexual energy.
Heal your inner child.
Balance your masculine to support your feminine
Clear ancestral patterns, blocks and heal your womb.
Find your voice and express your it.
Reconnect with your internal guidance and stop looking outside for answers.
Learn Astrology and Shamanism to apply in every day their life.
Safely explore and navigate the unseen/subsconscious dimensions.
Gain practical and spiritual tools to live a healthy, radiant life.
Align with your Higher Purpose by uncovering your gifts and sharing them.
Improve the quality of any and all aspects of your life.
Embody the Goddess within and birth a new paradigm on this planet.
One week after completing the program, I realize how much my mind is clearer, and my body energized. Working with Sitora gave me the gift of unloading baggage I didn't know I was dragging along. It has been a soulful journey to which I showed up with an open mind and completed with an open heart. Sitora knowledge, wisdom and insight have guided me to a better version of myself and equipped me with tools to carry on the Work.
Your words spokes much truth. Shortly after my journey with you a tragedy hit, which I was well prepared for and knew it was going to happen. But you prepared me and allowed me to understand and cope in ways. Your knowledge is priceless, you gave me something money can't buy.
Thank you, Sitora. Just want to reiterate again how wonderful and beautiful I think everything you're doing is. I find myself in a level of joy I haven't felt in longer than I can remember. Thank you for being so amazing, and strong and so willing to guide all of us to happiness.
You are on a different level. It was the best thing that I've done for myself in a very long time. Freeing experience. I cried like a baby for an hour and then- it was beyond words. I just changed my channel. Frequency immediately started to realign. I even bought a mirror online, after not being able to look at myself for so long. So many omens past few days. I am actually content for the first time in years. I feel inspired, I feel lighter, I feel like Alice Sitora!